With June 30 now in the rearview mirror, many businesses are starting to look back on this last financial year and ask themselves the hard questions:
"Did we achieve what we set out to?"
"How far did we miss the revenue/profit targets?"
"What should we have done?"
"What did we plan, but not get around to?
---
With buyers and users now living even more of their days online – it could be your website that isn't giving you the best chance to hit those targets. Critical at every point in the buying decision process, and the customer loyalty loop, your website should be set up to be:
1. Your loudspeaker
2. Your storyteller
3. Your best salesperson
4. Your most valued customer manager
5. And your most accountable employee
The thing with a new Financial Year is that it's a chance to start again. Our team of web design experts have put together this checklist of items your website will need to meet your market head on and deliver real results for you.
TL;DR

 Does your homepage banner have a strong USP?

 Does your website tell your audience the reasons why choose you?

  Does your website actually make it easy for the user to buy?

  Does your website show you as a real business?

  Does your website have a steady update of content?

  Does your website show the human side of your business?

  Does your website deliver value for data exchange?

  Does your website look professional?

  Is your website secure?

 Does your website have click-to-call and quick-to-access contact details?

 Does your website rank well on Google?
Let's look at each of these items individually to understand why they are so important in creating an effective website.
1. Be clear about what you do, and for who. Does your opening banner have a strong USP?
This is probably one of the hardest things to nail. So many businesses list all of the things they can do, rather than saying how they help.
You know when you meet someone for the first time, and they spend too long talking about themselves? You kind of just switch off, don't you?
Your unique selling point (USP) lets visitors know, firstly, that they're in the right place and, secondly, why they should stick around and do business with you. Ideally, this is a competitive advantage you hold over the rest of the market. But if you are in one of those undifferentiated markets, at least tick off the user's first question… That is, "Am I in the right place?"
Say you're searching for aged care solutions for parents. You get to A Home For Mum or Dad's website, 
and upfront, you can see they'll help you find the best living option for your (senior) Mum or Dad.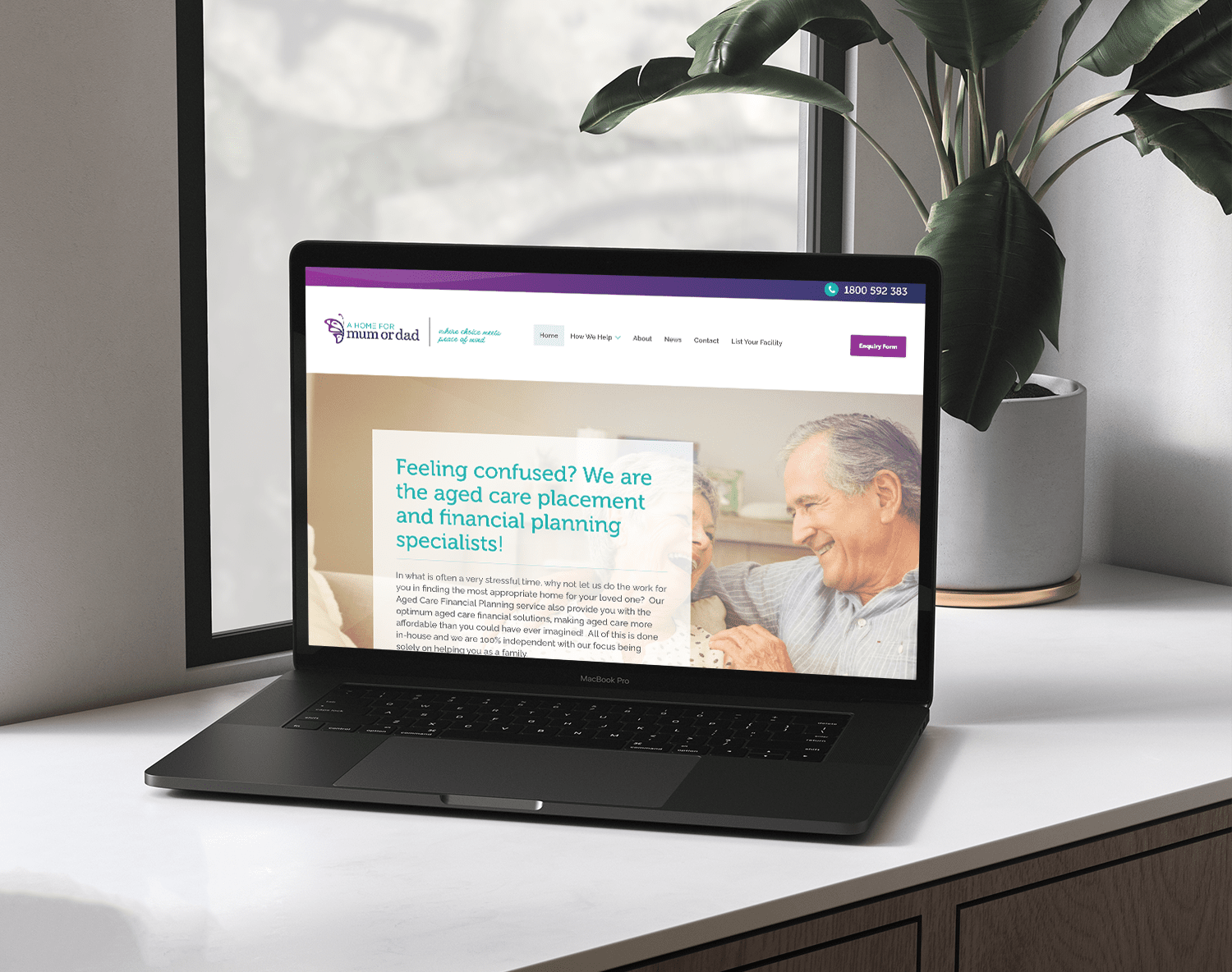 And if you're looking for a business accounting firm on Brisbane's southside – you'll know you're in the right place when you find Ignite Accounting.
2. Prove it! Does your website show users why they should choose you?
Now that you have access to your user's world, you need to show them they can trust you. This is one of the fundamental failures of websites that aren't delivering outcomes. "Sure, I can see that you claim to do everything I need… but I'm just not sure how credible you are."
As the internet has grown and developed, and as users become more attuned to how websites work, security and trust are becoming more and more important. Consumers and businesses have experienced the sour taste of a bad choice – and they won't let it happen again.
For me, it was the hoodie my son desperately wanted from his YouTube music hero that set me back $167AUD and hasn't been seen in almost 9 months, and the unanswered emails seeking a refund. I tell this story to remind you of your own personal online fails.
So building trust is key, and it comes in a pyramid of user content.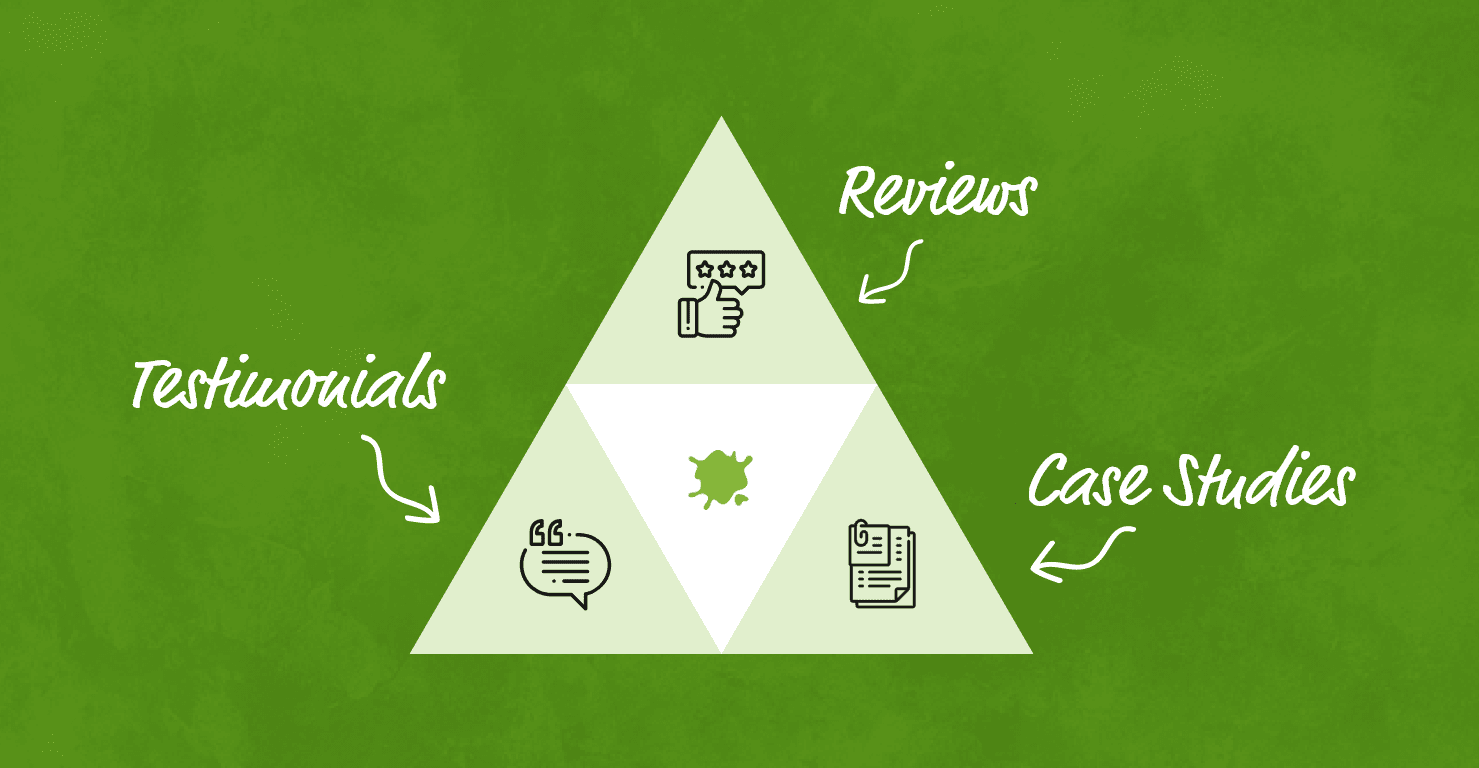 These are just three ways to use social proof to support your 'why'.  Reviews are the star ratings that come from third-party platforms like Google, Facebook and Product Review. While you can't stop the customer from talking about bad experiences, you can work really hard to ask happy customers if they could share their experiences.
Testimonials are client quotes or comments that you have collected directly, and are published on your website.  Case studies or client scenarios are really extended testimonials that also share details on the problem faced, the solution you provided, and the outcome you achieved.
This social proof content is often what our clients find the hardest to get because they spend so much time operationally in their businesses that they simply forget to ask. If you need help capturing and collecting social proof, we have a few tricks to make things easier for you to get feedback from real customers about their real experiences.
3. KISS! Does your website actually make it easy for the user to buy?
Using images, short descriptions, and call-to-action buttons throughout the scroll on each page, you need to guide your users to do the things you want them to – discover certain things, ask for more, leave their details, and of course, buy or order.
Great websites always consider the organisation's key outcomes and then lead users on the journey to deliver those outcomes. Just like your best salesperson, your website needs to deliver the messages in the right order, answer the objections as they arise, and bring it home by sealing the deal. If your website is constantly talking and not listening – you'll be making it hard for anyone to buy from you.
And, if your key messages can't be picked up in just a few seconds, then you need to take a good hard look at your copy. Using bullet points, lists and icons are all good ways to increase 'skimmability' and remove the friction from your user's journey.
And enjoy white space… it really does give your message the right room to be seen.
 4. Get real. Does your website show you as a real business?
While not all companies exist in the offline world, if you do, then having a Local Listing in the Google Business Profile platform is a must. This shows users that Google has verified that you do exist at the address you are showing. Linking in with Google Maps, a user can access Street View, and voila! They can see (and find) the outside of your building.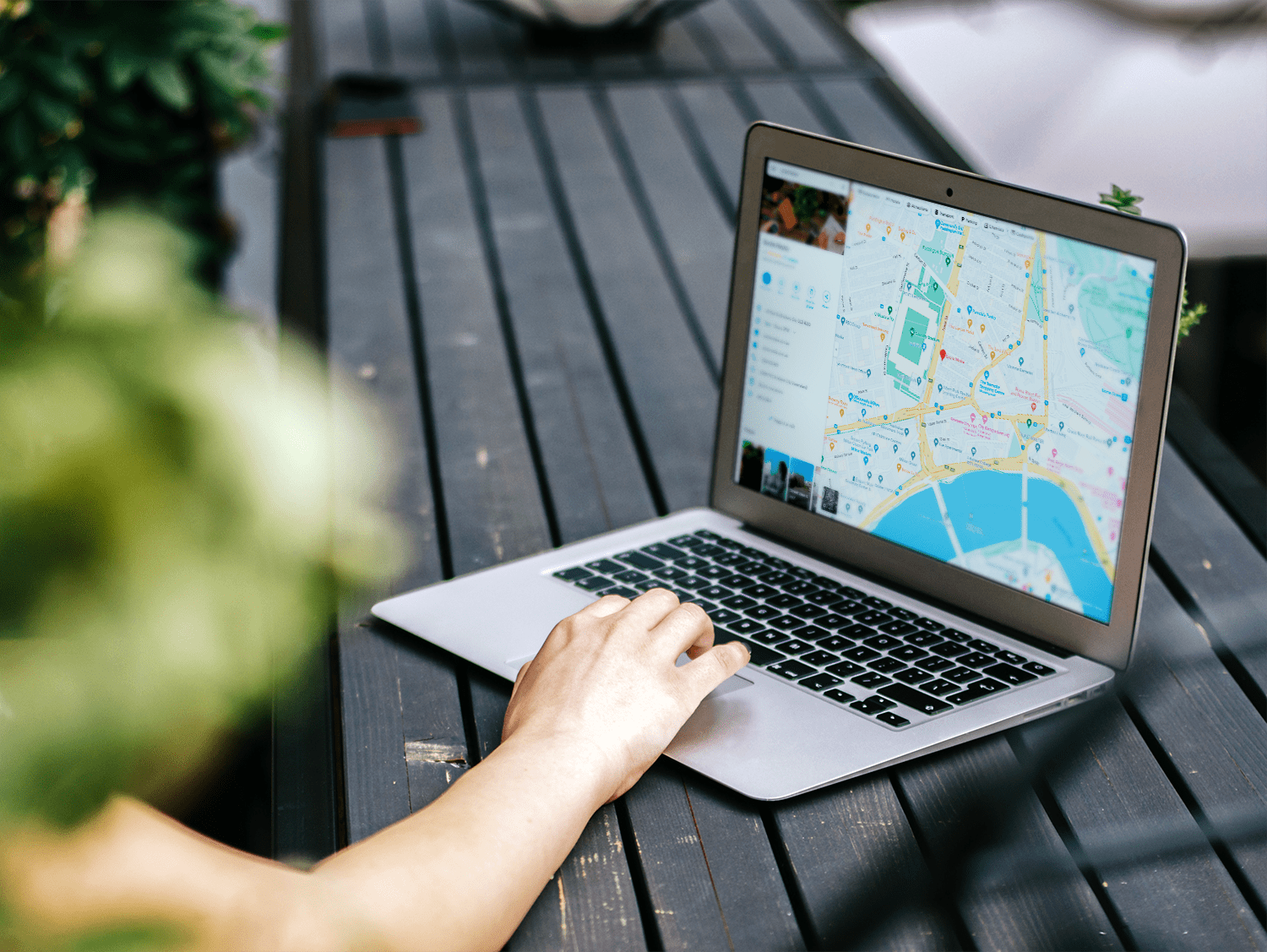 Taking that one step further, you can get Google photographers to take 360-degree panorama views inside the building. This is a great option if your premise is part of your customer experience. It signals to potential customers what they can expect if they visit you.
When it comes to reality, nothing beats video to showcase who you are, what you do and how you do it. Filming a day in the life of your business is just one idea to present your best real self.
5. Keep it fresh. Does your website have a steady flow of content?
Keeping your site updated makes both visitors and search engines happy. An integrated news section or blog is a great way to do this, but it does require your commitment to publishing new content in this format. When you're browsing a new website, it can be a turnoff to see the last blog post was back in 2017.
If you can put something new up every few months, then it is a good idea, if not, there are other ways to keep things fresh. Add extra pieces of client feedback or new case studies, update or rewrite the content on the pages, and add new photos or videos – these are just a few ways you can showcase the best version of your business, and give you some bonus points in Google land.
6. Be you! Does your website show the human side of your business?
Whether you are in the B2B market selling to companies or a B2C eCommerce brand, you're still working in a marketing environment that is fundamentally P2P – People to People. So having a team page with profiles and including photos or videos is a great way to add a human touch to your website and really add something that is authentic to your brand.
When we are talking with new clients, we often hear them talking enthusiastically about our Excite Team photos. Hovering over our photos shows the quirky side we all bring to the job, and the profile gives some insight into what makes us tick. This is always a great conversation starter that allows you to demonstrate what makes your brand (and your people) unique.
Back to the "Keeping in Fresh" point – it is a commitment to keep this up-to-date. Make it a priority when someone new starts to grab that great photo and get their details up online. It makes the new employee feel excited and shows you support the people who work for you.
And finally, pick a date that is important to your company, and on that date each year, get everyone to write their updated profiles. It would be a great team-building activity to do this together or make some kind of game or competition out of it for your team.
7. 2-way street. Does your website deliver value for data exchange?
Often the most important thing a website can do to deliver ROI for your business is identifying and educating prospects and capturing enquiries or leads.
Today's consumers know their worth and aren't throwing around their personal data.
As we all get swamped with a flooded inbox that is hard to control, we are often quite cautious about letting brands know that we are interested in what they have to say in case they start 'over-communicating'.
Welcome to the lead magnet. Knowing that we need to deliver a value exchange that works in the user's favour, a simple solution is to package up information, processes, checklists, templates, or tools into an easily downloadable format.
If you know your audience, then you will know that they are often overwhelmed by information (in my terms, we are all suffering from infobesity). Giving them material that helps them make a brand or buying decision is seen as 'good value', and will often be the thing that tips them just over the line into the data capture form.
You will find a lot of information online about lead magnets and how they work. Here is our checklist for what makes an effective lead magnet:

  It solves a real problem.

  It focuses on a quick win.

  It gets super specific.

  It is quick to digest.

  It offers a high degree of perceived value.

 It provides instant gratification.

  It demonstrates your expertise or UVP (unique value proposition).
8. Look great!!! Does your website look professional?
Just like you expect your sales reps or service staff to be presented in a way that boosts your brand, so too should your website. Users are savvier than ever before, and while they like clean and easier interactions, they still want it to look good. They sniff out homemade clipart with a single click.
"Good design is good business," Thomas John Watson, Jr., the former CEO of IBM
"Design is not just what it looks like and feels like. Design is how it works,"
Steve Jobs
9. Be seen as safe. Is your website secure?
Our view on this is pretty simple, whether you are an eCommerce store taking payments or a business coach giving advice, you really should secure your site with a padlock shown by the address HTTPS.
This will:
Help support lead generation by providing users with confidence
Help support your Google rankings
Present positive perception
What's HTTPS?
If you see a little padlock in the address bar of your web browser, that means you're visiting a secure website, which means the data you're sending to or receiving from that site is encrypted.
A non-secure website has a URL that begins with "HTTP" in the address bar, whereas a secure website begins with "https" — with the "s" standing for "secure".
Did you know? Starting in July 2018, Google Chrome displays a "not secure" error on any website not using the HTTPS protocol — regardless of if users are filling out a form. So, if you depend on your website generating leads and sales inquiries, your site needs to use the HTTPS protocol, so users don't freak out and abandon your site due to "non-secure" warnings.
10. Make contact easy. Does your website have click-to-call and quick-to-access contact details?
How many times have you found yourself frustrated – trying to call a business on your mobile phone and battling with copy-and-paste functions?  Today's user is on the move, and if they want to talk to you, they want to do it now.
Offering a one-touch way to contact you will bring you more enquiries and better customer satisfaction.
Not all your website visitors will be new customers. Many existing customers will be coming back to find your phone number, check your address and see the nearest side street. So having a simple well-presented contact page with links to Google maps will make for a better customer experience all around.
11. Get noticed! Does your website rank well with Google?
Even the best website is useless if it can't be found. That's why SEO – Search Engine Optimisation – is so critical to having an effective website. Truly effective SEO can seem daunting to most business owners because it requires a detailed strategy, constant analysis, and time. However, a good way to start is by adding some basic SEO elements that every website should have:
Add an XML Sitemap
This is a background file for search engines (not humans) that helps them easily understand the structure of your website. If you have a WordPress site, the Yoast plugin is a great SEO tool that automatically generates an XML sitemap.
Optimise Images
How quickly a website loads can play into Google's rankings, and images with large file sizes can slow down your site. A good plugin for WordPress sites is WP Smush, which can reduce file sizes without reducing image quality.
Remove Broken Links
Sites and pages with broken links do not make for quality content or a good user experience, which is what search engines want to see.
Add a Privacy Policy and Terms of Use/Service
Google considers how legitimate and trustworthy a website is when considering ranking, and having these pages plays into this.
Add Title Tags and Meta Descriptions
This information, added to the backend of your web pages, is often what appears on search engine results pages and is a direct ranking factor.
If you've made it this far down the story, I'm sure you're feeling a little overwhelmed about where to start. Your website could be what's stopping you from reaching your potential – perhaps not getting the traffic you need, or converting the opportunities out there, but the question is often, "where do I start?"
If you see that change is required for FY 2020, and you want to move your business back into the front seat, we'd love to hear from you. We are working every day with brands that are looking for their online advantage.
We dig into what your challenges are and how your business operates to put together a program of website enhancements and digital marketing activities (like SEO and Pay-Per-Click advertising) to drive performance improvements. And if that old website simply can't handle all the changes that would be required, we can work with you to build you a beautifully designed, customer-centric website that works – and by that, we mean one that has been designed to focus on the specific things that are important to your customers.
Is your website in need of a revamp?
You can book an obligation-free chat with our sales team. They'll uncover loads about your business, your target market, and exactly what we can do to ensure your website makes the right impact.