We love Facebook Advertising
There's no other service in the world with more users than Facebook. And with even more customer data than Google, Facebook can offer smarter targeting too.
As an advertising medium for businesses large and small, it's super powerful. That's because it allows you to: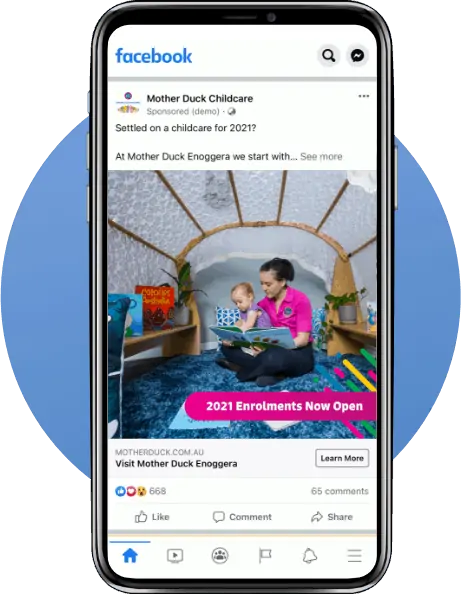 Want to target hundreds or even thousands of your
perfect customers?
Facebook is terrific (we all know that). But getting the right ads in front of the right people is where the challenge is.
That's why so many Brisbane business owners and marketers come to see us. Our Digital Marketing team offers a complete 'done for you' Facebook Advertising agency service that delivers solid returns.
Here's how to get a 2X, 5X or even 10X return on your ad spend:
Clarify your ideal customer
Get this right, and the sales will flow. In our initial setup stage, we get to know your perfect type of customer (age, gender, work, hobbies, interests, locations etc.) so that not a dollar is wasted on poorly targeted ads. Then we put our expertise into action…
Get professionally designed Facebook ads
Our team of copywriters, marketers, keyword researchers and designers create everything needed for your Facebook Ads campaign to have the best chance of success straight away.
Targeted to deliver maximum results
Using our customer research, we test different ad copy, designs and offers to see what works best. Only then do we go into full 'campaign-mode', knowing that you'll get maximum returns for your ad spend.
Ongoing Facebook Ads Management
Managing your ads long term is the hardest part of any online ad campaign. Innovation is the key here – creating new ways of appealing to your audience so that your sales revenues continue to grow, while your individual acquisition costs drop.
There are so many ways of advertising with Facebook
(we'll find the best for your business)
Professional Facebook digital
marketing is highly affordable with us
Why hire someone full-time when it's so cost-effective to have a professional Facebook marketer working for you each day. From small businesses to large enterprise, our Brisbane Facebook marketing consultants will create the perfect campaign(s) to suit your growth plans.
Meet the team making millions of dollars for our clients👇
Here are some of the Facebook Ad consultants in Brisbane at Excite Media that can design a winning strategy for you.
Want to get to know all of us?
Trust and experience matters when it comes to choosing a Social Media Marketing agency
REAL REVIEWS FROM OUR CLIENTS
I have worked in marketing for over 20 years and Excite is the best digital agency I have ever used.
Nothing beats an efficient, results oriented team who also know how to enjoy themselves.
Excite Media is an impressive company who has consistently delivered excellent service and great results.
Excite Media are outstanding! I have been associated with Excite Media for over 8 years and they have never let me or my clients down.
Love them. There are a number of less than ethical website and online marketing companies out there, but Excite Media is one of the few that lives up to the hype.
Book your free Facebook Ad campaign review
Meet with our team to assess your Facebook Ads campaign. We'll help you find new opportunities and tweak your strategy.