Across all of our SEO campaigns, we hear similar goals: rank higher, boost traffic, increase sales — and they're all great goals to have.
What we especially love though, is when our clients have a clear vision of where their business is heading, and already have an idea of how we're going to help them achieve it.
They have a real-life metric, one that really matters.
When we kicked off Chantal Louise Skin Therapy's website project, Chantal told us her main goal was for her business to grow. She wanted to expand her team so that she could step back and push the business' growth. Specifically, she wanted to hire three new skin therapists.
Spoiler alert: she did just that. Here's how we did it 👇
Chantal came to us back in 2020 for a new website. Her clinic had grown from a small room rented out in another beauty salon to its very own little studio in Nundah and she had hired two skin therapists.
The clinic was getting pretty good results from Facebook too. Chantal's worry was what their Facebook followers found when they visited the website. She wanted to get more leads to grow her business — she wanted to spend more time training new therapists and focus on making her business the best it could be. Creating the freedom to take holidays would be a bonus too 🌴
With all of this in mind, we created a website. Heavily inspired by the business' branding, which is high-end and designed to appeal to modern women, as well as the current trends in the skincare industry, the website featured plenty of white, gold, and cursive fonts.
Most importantly, the website is set up to convert
The website shares Chantal's business story, which is a relatable one for much of the business' target market. It shows the user that Chantal is empathetic to their situation and in turn, builds trust.
The treatment pages explain the value of the host of treatments available at their clinic, with benefits-first titles and simplified explanations.
Then, the clinic offers a simple offer for their call to action. It's a $99 Skin Analysis Consult. Not only can the user book online, making it a smooth, simple process, but the Consultation page offers a step by step process, letting the user know all of the amazing deliverables they'll take away from the $99 experience.
In 2021, we started an SEO Campaign
Once we'd created a website that would both educate Chantal Louise Skin Therapy's client base and sell their services, we kicked off an SEO campaign. Chantal really
wanted to begin ranking on Google to improve the number of enquiries
coming through their website. Her main goal though was to grow her business enough to bring on new skin therapists. She wanted to dedicate more time and attention to growing and building the business: its treatment options, its service, and even its premises
Authority building for domain rating 🏗
Authority building is important to create the biggest impact possible for our SEO clients. For Chantal Louise Skin Therapy, we wanted to improve the website's domain rating to secure more stable results.
We wanted to support the website's organic ranking with a solid foundation in its domain rating. We've firstly done this through citation building — where we ensure the site is listed on the correct directories with the right information. And secondly, through guest blogging, where we nab backlinks by sharing valuable information with other reputable websites.
Chantal is super invested in her business' growth, so she's helped us out with this too. She had the clinic featured in an article for the best Brisbane facials in Style Magazine — securing a high authority backlink.
We know backlinks, domain rating, and website authority can be kind of overwhelming and confusing. You can get across it all with our backlink explainer piece.
Content creation for keyword inclusion 🔑
Well, not just for keyword inclusion — but it is a great tool for that. Content creation is an amazing way to share value with prospective clients and establish your team or your website as a reputable source in your industry.
For Chantal Louise Skin Therapy, there's so much value to be shared. The skincare industry is really prominent right now, with new products, techniques, and trends constantly emerging. With Chantal and her team's depth of knowledge in this space, it allows them to jump on trends and become among the first to cover and explain why these products work — or why they don't.
Not only does this establish trust in Chantal and her brand, but it develops valuable, keyword-rich content for her website, which works to support her ranking goals.
Another benefit of this content creation is the internal linking opportunities it presents, which directly support those targeted pages.
From 'Whether Chocolate Really Gives You Pimples' to unpacking the "slugging" skincare hack, and through to exactly 'What Vitamin C Does For Your Skin'. We've loved working with Chantal and the team to create these informative and impactful content pieces.
Through these content pieces, we've been able to promote the clinic's online store. The store is password-protected because the products are prescription-only, however, by highlighting these products throughout the content and sharing their value, we were able to encourage readers to book a consultation and find out if the products would work for them.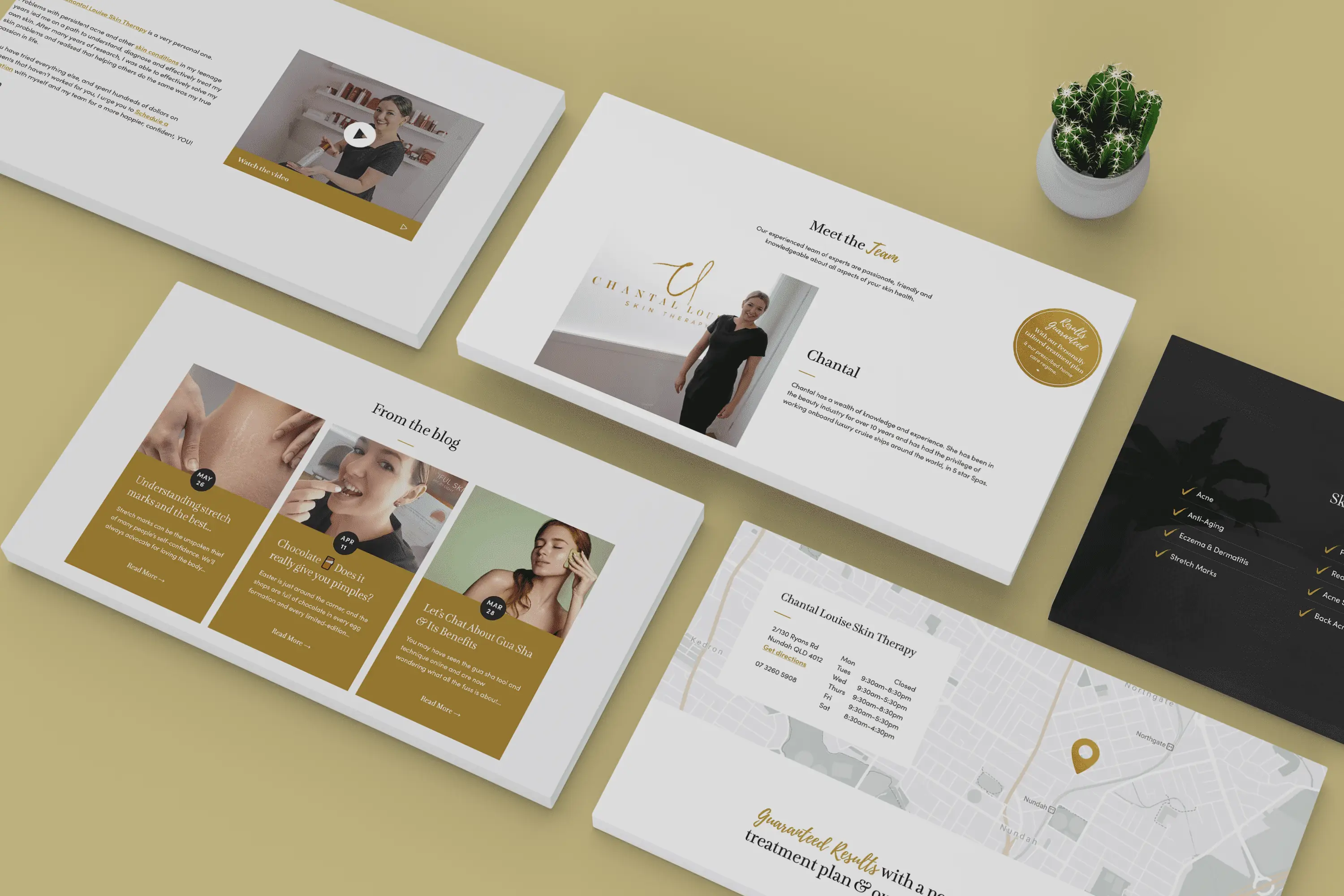 High-value keyword content, to sell 🛍
As well as wanting to rank for those high-value informative search terms, we want to
rank for the treatments the clinic is selling
. We've definitely been working on this from a content perspective, but now we're creating dedicated content pages for each treatment to secure top positions for those treatments.
Google Business Profile optimisation for local results 📍
Your Google Business Profile (GBP) is your best bet for showing up in local packs — like Google Listings and Google Maps.
As part of the business' SEO package, we've kept their GBP up to date and optimised it for relevant search terms.
Since then, we've had some big wins 📈
We've just reached the one-year mark with Chantal Louise Skin Therapy and there's been plenty to celebrate in that time.
The website's organic traffic, as well as its organic traffic value, have been
consistently rising over the last 12 months
. It hit an all-time high just last month.
Domain rating improvements
Improving a website's domain rating can be a long process, but our authority building efforts have begun making an impact on the website's domain rating — even if it is just a few spots.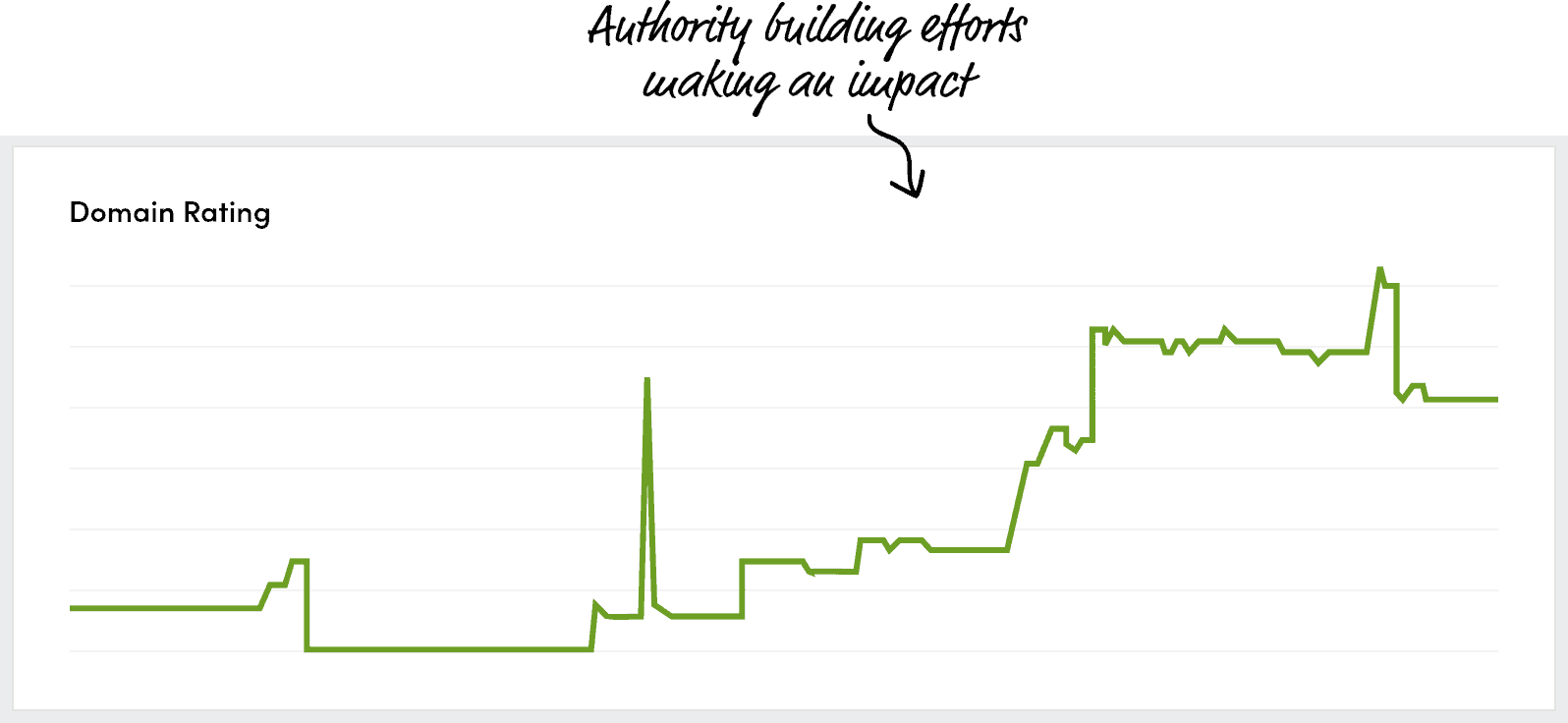 Chantal Louise Skin Therapy has been steadily collecting organic keyword rankings over the last year or so.
In 12 months, they've collected roughly 150 additional keywords and you can see in the graph below, particularly in recent months, they've picked up a bunch of top spots — whether in #1 – #3, or just the first page.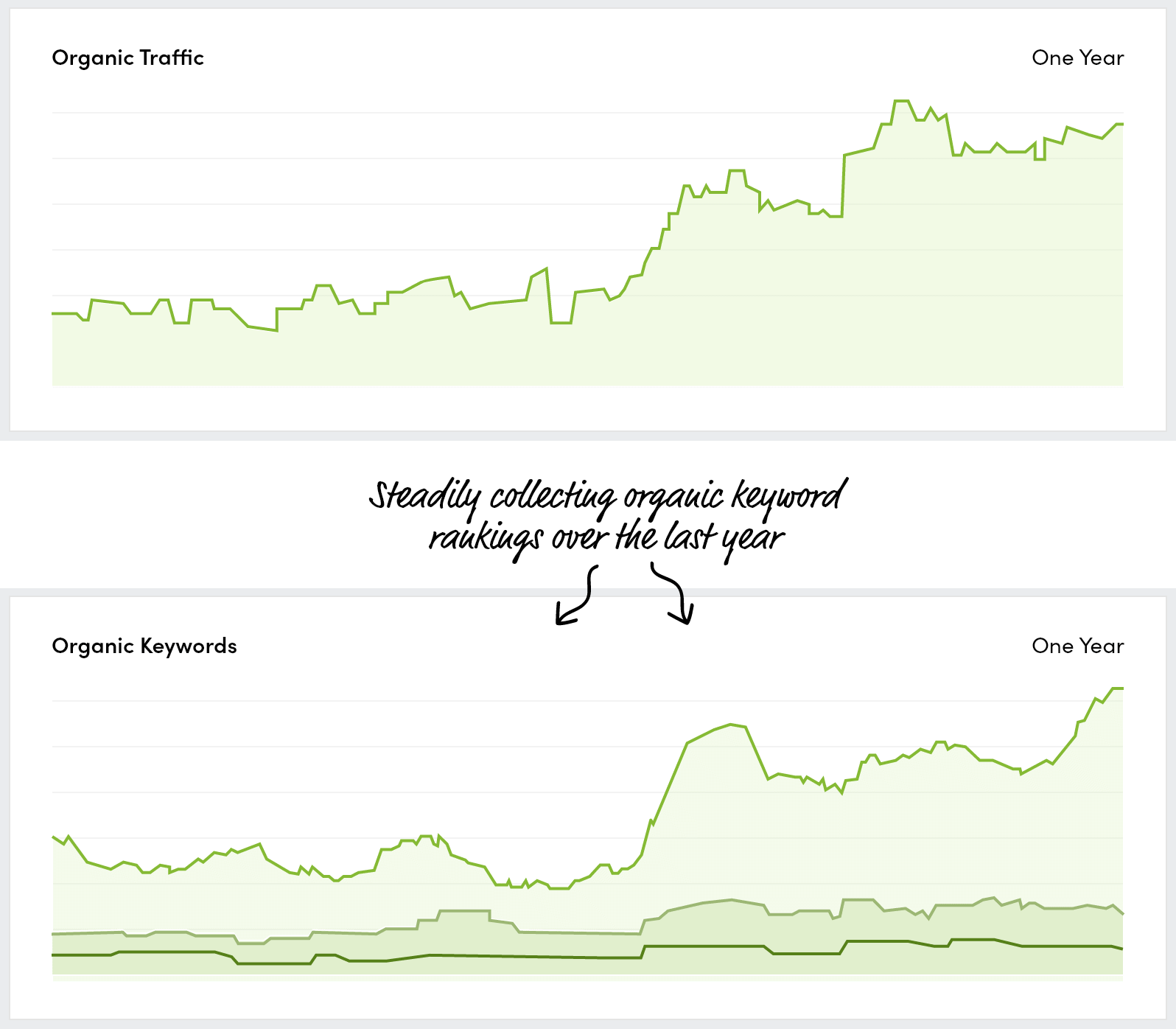 In the past 12 months, the website has seen 158 conversions. That's an average of 13 conversions a month, which is already impressive if you consider their call to action — a $99 skin consult.
What's even better is that the average annual value of a customer at the clinic is $5,500.
The graphs are great but then, Chantal brought on three new therapists and hit the 100 5-star review milestone 🎉
There's always plenty of data to sift through to see where we're making an impact and exactly how much. At Excite Media though, we love tangible and real-life results. Google Reviews, especially when they're 5-stars and contain contextual information and keywords, can seriously support local search efforts. So, when Chantal Louise Skin Therapy hit 100 5-star Google Reviews — we were stoked. Our favourite achievement though? When Chantal originally came to us, it was her goal to build her business up enough to grow her team. This year, Chantal reached her goal of hiring three new skin therapists 🥳
And for Chantal? This is the metric that matters.