AAMC is a Brisbane-based company that operates nationally, supporting motor insurers with services like loss assessment, repair management, and complex & technical assessment.
It's a niche industry, for sure. But that doesn't mean it's without competition.
Our story with AAMC starts back in 2021, when we launched a brand new website before kicking off a brand new SEO campaign. Today? AAMC ranks in the top positions for nearly all of its keywords.
But we'll get to that a bit later in the case study 😉
AAMC came to us back in 2021, signing on for an SEO program and a new website. The old website was a one-pager with a bit of an outdated design. It also didn't 
quite 
communicate AAMC's unique selling proposition or just how important they are in the insurance industry. The task at hand was to create a new, refreshed website that would instil trust in AAMC and allow big insurance players to land on the website and know they were about to enquire with the
real deal.
There were two key components here 🔑
To position AAMC as leaders in the industry, we needed the copy and design to come together intelligently to create a website that was confident and self-assured, while speaking to the target market's pain points.
It started with copywriting — which was a collaborative effort between us and AAMC, using our copyediting service. They provided the information we needed to include on the page, and we chopped, changed and edited it into conversion-ready website copy designed to appeal to industry veterans and insurance newcomers all the same.
On the design side, we incorporated AAMC's branding into each element of the design, using the different shades of blue found in their logo and incorporating fun square shapes throughout the design.
The new website perfectly balanced the corporate and human sides of AAMC.

A problem that is more common than you might expect is name competition.
AAMC had a name competitor. Another Aussie company using that same AAMC acronym.
The only difference? They were in the education space and had that coveted 'edu.au' top-level domain.
Your top-level domain is the '.com' or '.org' in your domain.
Generally, the '.edu' domain holds better weight on the internet and is seen as a more 'authoritative' domain by nature.
So, if you had two websites competing for the same keyword, in this case: AAMC, then the '.edu' domain will tend to win.
So, what did we do?
Well, we couldn't optimise our way out of it. They weren't competing on any other keywords.
We needed to out-authority them.
We set out to boost the authority of AAMC's website through their domain rating.
It took 18 months, but as of July, AAMC ranks #1 for AAMC.
Domain rating: 0 to 15 in two years 🏎
Like we said, it was really important we boosted the authority of AAMC's website.
Not just, so we could out-rank the other AAMC, either.
Domain authority does wonders for a website's rankings. So we hit the ground running with link building and citation building opportunities.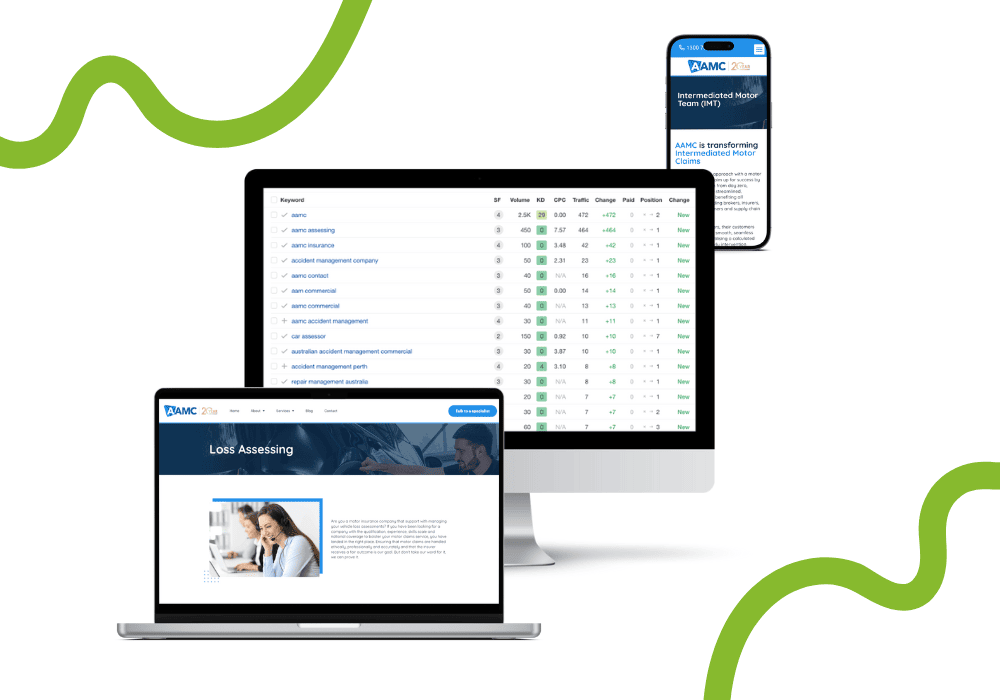 Some of our favourite SEO wins so far 🏆
AAMC has had some seriously impressive wins over the last two years. From sky-rocketing rankings to a 4,000-uptick in clicks in just a year.
Here are some of our favourite wins so far.
A quick look at the keyword rankings 🏍
AAMC is ranking on the first page for most of their targeted keywords, with many of their loss assessing (their key service) keywords sitting in the top 3 results.
Over the last two years, some key movements have been:
| Keyword | Starting Position | Current Position | Improvement |
| --- | --- | --- | --- |
| loss assessor | 41 | 3 | 38 |
| loss assessing | - | 1 | 99 |
| motor assessor | - | 3 | 97 |
| vehicle assessor | 25 | 3 | 22 |
| repair management | - | 1 | 99 |
| car assessor | 82 | 7 | 75 |
| insurance assessor | 52 | 9 | 43 |
| accident management | 18 | 4 | 14 |
| accident management company | - | 1 | 99 |
| independent car assessor | 29 | 7 | 22 |
| repair process management | - | 3 | 97 |
| aamc | 3 | 1 | 2 |
In the graph below, you can see how AAMC's website traffic and its value has continued to soar upwards.
NOTE: AAMC's traffic didn't start at 0, technically. Their domain name changed in August of 2022, skewing the data slightly. It actually started at approximately 1,200 visits per month prior to the launch of the new website.
AAMC's primary service: loss assessing ⭐️
In every SEO campaign we take on, our biggest priority is working out our client's biggest priority. In the case of AAMC, their most important and key service to promote was loss assessing. Not only have we placed AAMC in Position #1 for their 'loss assessing' keyword, but we've
nabbed them a featured snippet for it, too.
A year-on-year comparison 🤝
In a three-month period in 2022, AAMC received 795 clicks. In the same period, a year later, they received 4.77k.
That's a 172% increase.
For the same comparison periods, 2022 saw 7.47k impressions, while the 2023 period saw 98.2k.
That's a 441% increase.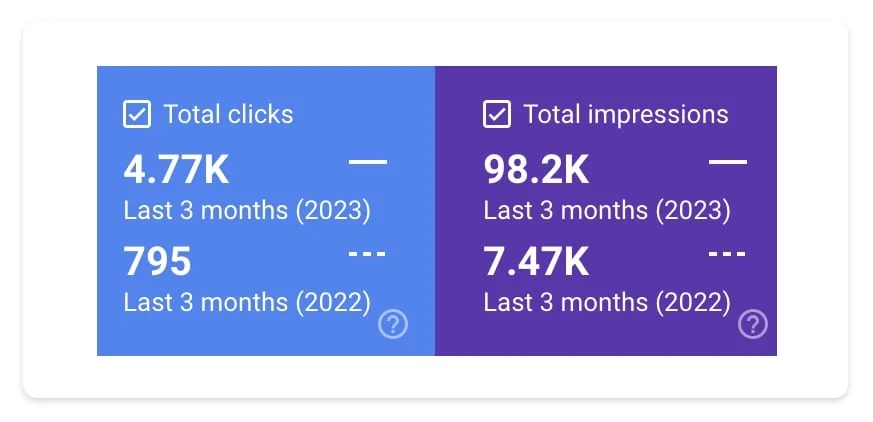 A note on niche industries & making SEO work
When it comes to niche industries, especially in fields where big industry players outsource parts of their operations to you, strategy becomes not-so-straightforward.
AAMC are specialists in loss assessing. But when you crunch the numbers on 'loss assessor' it's only getting 50 searches per month.
It pays to look outside of what the service is technically referred to as, and discover what people might be using to find the same thing.
In AAMC's case, we found that there was three times as much search volume for 'car assessor' and four times as much for 'insurance assessor'.
By finding these keywords and curating your website content and optimisations to these keywords, you can cast a broader net to catch more traffic.
It's then a matter of using strategic content to bring the user in to understand exactly what it is you do, why it's valuable, and provide that education piece of the puzzle.
For AAMC now, it's a matter of continuing to strengthen their website's authority and
keep our foot on the pedal for their SEO.
We're looking to Semantic SEO next
The world of SEO is ever-evolving and the latest revelation is semantic SEO. 
Google is now looking for websites to use their content to cover a topic in full. Rather than optimising to a single keyword, we're looking to position ourselves as experts in the topics relevant to us.
And that's exactly what's next in store for AAMC. 
We're excited to see where their results go next 🤩
What AAMC have to say about it: