For as long as I can remember, gaming has been a part of my life – and I don't mean console gaming as most people would presume these days. I mean good old fashioned sitting around the kitchen table with a deck of cards or raiding the loft to dust off a classic old-school board game.
When people talk to me about Christmas, the first thing that comes into my head is my Gran arguing with my younger brother about the state of the world when the word 'Qi' is allowed on the scrabble board, or my Grandpa trying to draw 'Harry Potter and the Philosopher's Stone' in a game of Pictionary and the concept of 'no talking' going completely over his head.
It might be a little geeky, but I love the world of tabletop gaming. It gets us away from a TV screen and interacting with each other, and there is a game to suit every occasion, every age group and every level of skill and sophistication.
A massive undertaking in patience.
I'm currently a member of the Excite Media Graphic Design team, but only really got properly into design on a professional level a few years ago.
Learning the Adobe Suite can be daunting when you first get stuck into it. When there's an idea in your head and you just don't know how to realise it on the screen, it can make you want to tear your hair out. With so many different products for slightly different applications, and all working in a slightly different way, mastering them takes a lot of practice.
When starting my first graphic design job, I thought the best way for me to get my head around all of it was to create my own mini design project – one which would need elements created in each of the Adobe products, and would allow me to practice lots of new skills doing something that I would enjoy.
A friend had recently created his own game, and after talking to him about his experience and having had the seed of an idea for a game myself, I thought that would make the perfect project to hone my skills.
Failing to plan is planning to fail.
Before jumping straight into the design process, I talked it out with my family with whom I was living at the time. We're all regular board gamers and card gamers, so I explained my concept and, having got the nod, I started putting pen to paper.
I came up with a concept for a nautical themed strategy card game that falls into the same kind of genre as games like Monopoly Deal, Backpacker and Exploding Kittens.
In a nutshell – each player is in control of a port. Your aim is to collect and establish your very own shipping armada, smuggling precious cargo out of your docks, under your opponents noses and safely home. All the while, you must avoid natural disasters, enemy attacks, and the deadly "Kraken" sea monster being unleashed on your unsuspecting vessels.
My first draft was as simple as bits of torn up paper with very broad labels placed on them to indicate the type of card. Then, with my family as willing guinea pigs, we played a few rounds to see if it even worked. And it did. Everyone seemed to be getting stuck in – some banter was being thrown and my Dad was attempting to cheat, which is always a good sign. If he cares that much, it must be an ok game…right?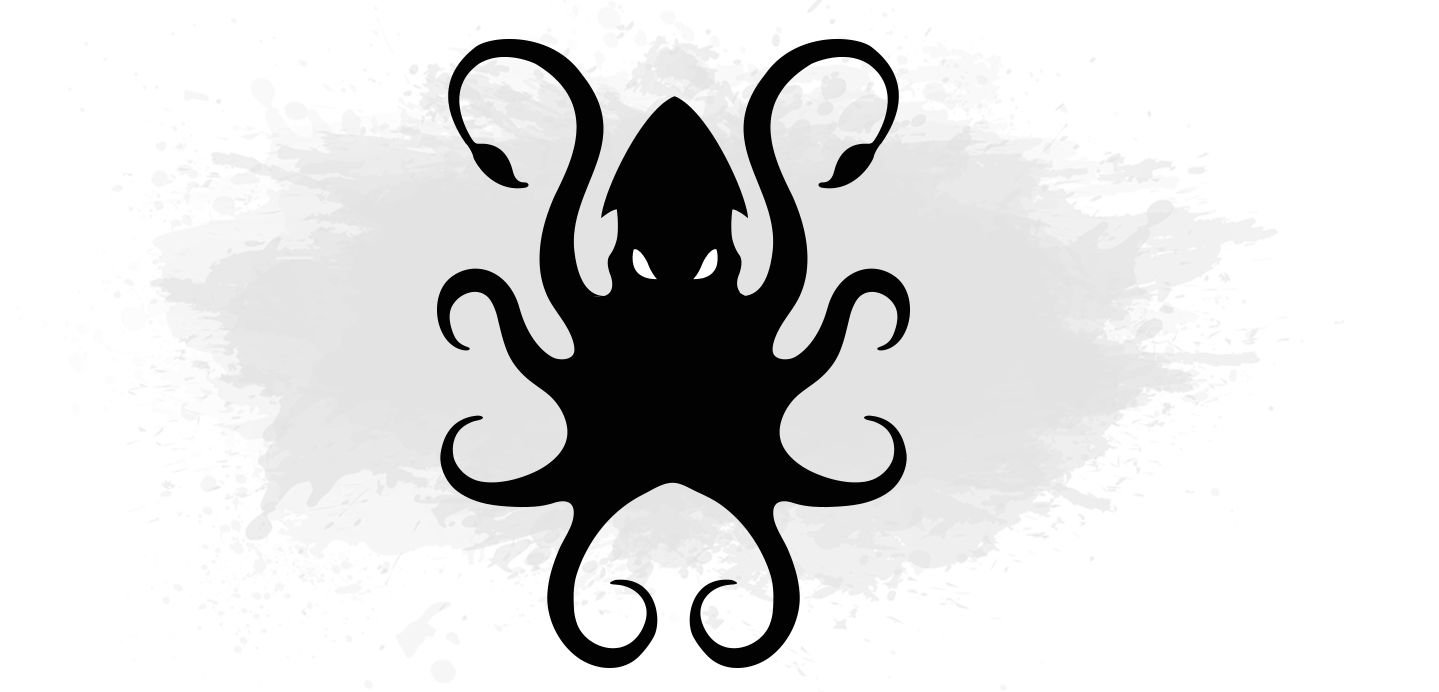 Back to the drawing board.
Once I knew the game worked, I literally went back to the drawing board and started throwing together some ideas, along with any comments and feedback that had come up in the teaser.
I'm a mind maps kind of guy, and an avid list maker, so I began drafting up the deck in fine detail in my notebook. This was a lot more work than I had initially thought. While not an overly complicated game, there are several different kinds of cards. Getting these cards to balance in a way that made the game flow as smoothly as possible was one of the biggest challenges.
I must have forced my family to play 20 or 30 times, adding and removing cards each time, coming up with cool new ideas, and refining the rules, until we finally had something that was working really well.
Getting my hands dirty with the artwork.
After a few weeks refining the concept, I could finally start the fun bit – making it look good.
I always like to start of the design process with some research, trawling the web for inspiration, and sketching my ideas out several times until I have something with good potential. I had decided that the name of my game was going to be "Release the Kraken". A gnarly looking sea monster was going to be front and center in my artwork and I'd build up from there.
Coming up with my colour palette was straightforward. Being a nautical theme, greens and blues are the main focus on the card backs. But I wanted the front of the cards to be as vibrant as possible, with each different type of card easily distinguishable from the others. It was important to always picture how a player would see and interact with the cards during gameplay. I based my decisions around this, and not wholly on what would look the nicest.
I like simplicity in design. In Web Design there is a real trend towards this at the moment, and I guess that influenced my decision making on my card game too. I have aimed to keep the cards clean, clear and uncluttered, using basic flat graphics to visually represent each theme, and doing my best to maintain as modern and attractive an end product as possible.
There was lots of trial and error here, and when I look back at some of my first drafts, I wonder what I was thinking. But I guess that shows progress! Even now, I am constantly tweaking the cards and probably will be until the day they finally go to print.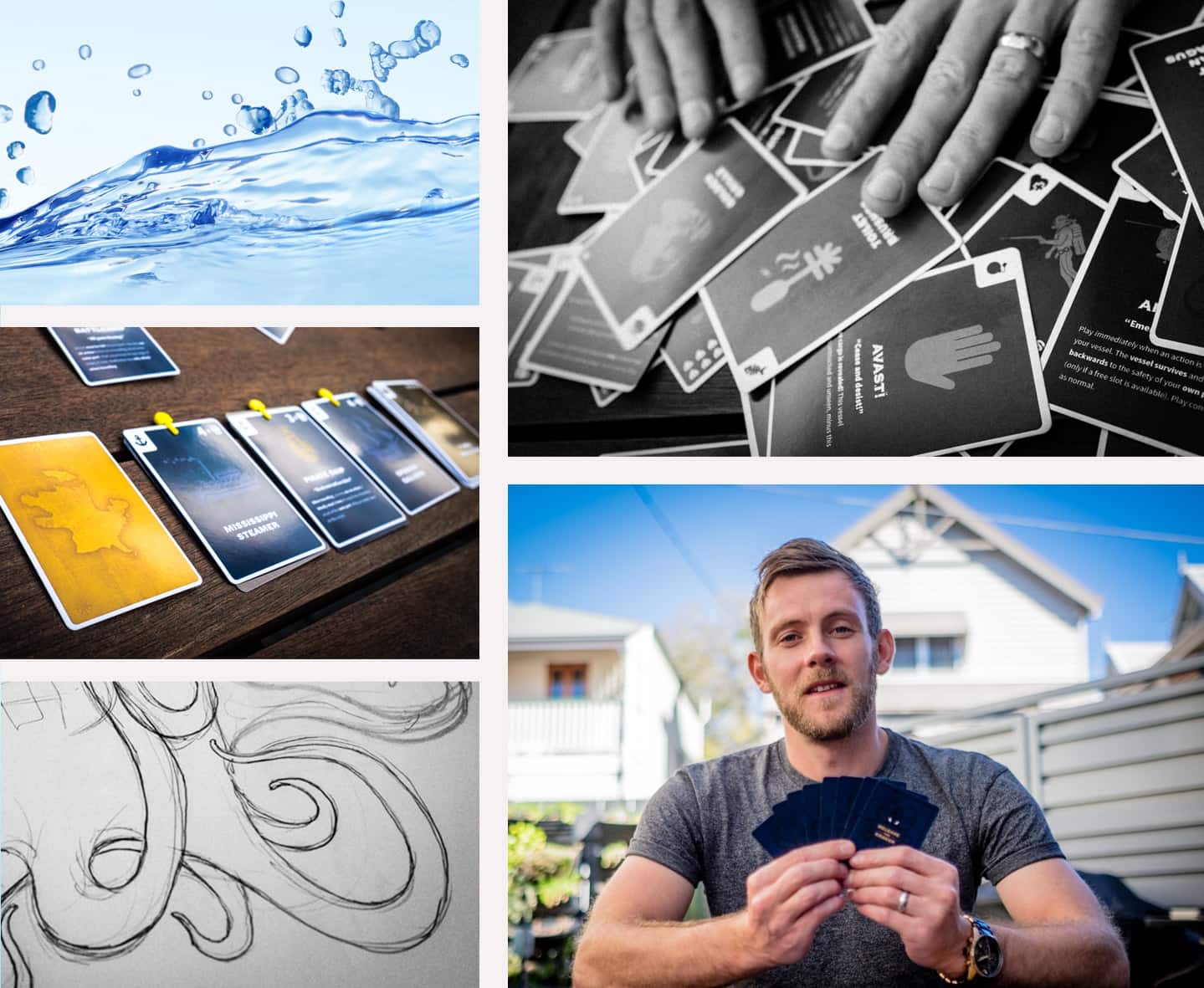 Not always smooth sailing.
It's been a bumpy journey in places. As I mentioned earlier, getting my concepts to appear on screen as they had in my head didn't happen on my first attempt. It took many a Youtube tutorial to bring a lot of my ideas to fruition.
I'm predominantly a digital designer, so the world of print design was all very new to me. Learning how to set up documents for print, figuring out bleeds and colour profiles, and getting to grips with InDesign and Illustrator were all a big challenge, and I'm still learning cool new things every day. Everything I learn in the development of my game indirectly benefits my professional work, and that is something I have definitely noticed.
One of the biggest thorns in my side has been getting my cards to print as they look on screen. This is something I had overlooked, having spent all that time getting them to appear perfect on screen. In print they were much darker, with all the detail being lost in a blur of dull ink, which was a real pain. This is something I'm still fine tuning, but I'll get there in the end.
The process of testing and refining is a long road.
After graduating from torn up pieces of A4, to Sharpee on a blank deck of playing cards, to laminated card on the work printer, I have recently ordered a professionally printed deck from a specialised game producer in the US.
Where I am at now is testing and refining. I'm getting my game out there in front of as many people as possible, from as many walks of life as possible, and taking on any feedback.
While I know it might be impossible to please 'everyone', this has been really useful in fine-tuning the game to be as easy to understand as possible, as visually appealing as possible and most importantly as enjoyable as possible. Only ever playing the game myself, or with close friends and family, can mean getting tunnel vision and missing out on important elements that could be really beneficial for the wider audience.
As with any design I do, sharing it with others and taking feedback constructively and positively is essential.
What's next?
Having come this far, my end goal has now changed. I have achieved a high level of proficiency and continue to advance my skills with the full Adobe Suite, but my design adventure isn't over. After realising that I have actually come up with something that people enjoy, I would love to take the next steps and see if I can make "Release the Kraken" a real live thing.
Tabletop gaming is really making a comeback at the moment. With the growing popularity of crowdfunding, a Kick Starter campaign seems like the logical next step.
There's a lot of work to be done, but watch this space, the "Release the Kraken" strategy card game could be coming your way soon!