Phenomenal Savings in Ad Spend and First Page Results
After our optimisation of the page it started returning on the first page of organic Google search results. This page is the first organic Google search result in Crimsafe pricing queries, outranking the official Crimsafe website itself! A page snippet which contains pricing information direct from the page also appears in Google's first page of organic search queries.
Organic first page ranking in Google
Page snippet in first page organic search
Channels 39% of all site traffic
Page is responsible for over 30% of monthly conversions
$8,500 AUD per month saved in advertising spend
Currently, this single page accounts for over 39% of the site's traffic and all of this traffic is being directed through organic search results or direct access.
Using our prediction tools we've estimated that this organic ranking continues to save Davcon over $8,500 AUD per month in paid advertising campaigns. This means that without their high SEO ranking Davcon would have to spend $8,500 AUD to attract the same amount of traffic to their site. This single blog post now accounts for over 30% of all of the site's conversions every month!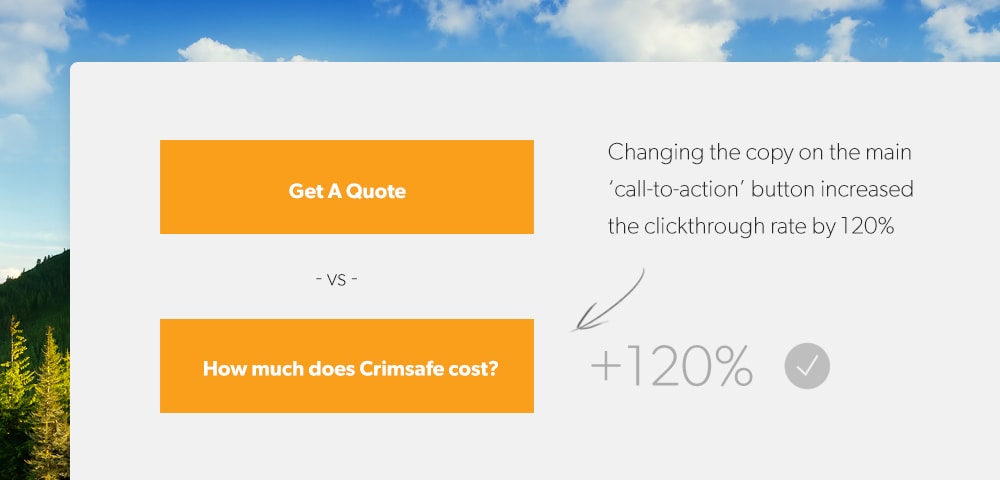 On top of this, our button change on the homepage screen realised a growth of 120% in clickthrough rate (CTR); a huge result for a small change!
An Opportunity to Improve An Existing High Traffic Page
Davcon is a Brisbane-based reseller and installer of Crimsafe security screens. Davcon had originally approached Excite Media to build their website and continue with AdWords and search engine optimisation (SEO) support after the completion and launch of their website.
Early in their campaign we identified an opportunity for vastly improving their SEO. A blog page that provided information on pricing was garnering a significant amount of traffic. While there was some great content on this page it needed an overhaul for SEO, conversion rate optimisation (CRO) and user experience (UX).
An Integrated Digital Marketing Strategy to Optimise the Page Performance
Excite approached the overhaul of this page with a holistic digital marketing strategy in mind. Firstly, we focused on converting the current traffic being driven to the page with a combined UX and CRO strategy, as part of this we made the following changes:
Used video tracking software to understand user behaviour on the page
Added multimedia items including images and the official Crimsafe logo to support brand recognition
Improved branding and colour to contribute to page readability and authority
Embedded multiple call-to-action (CTA) buttons throughout the page for easier accessibility
Converted page copywriting to focus on benefit-driven statements
Used real-life examples to support the benefit statements
Next, we focused on pushing even more organic traffic to the page! We implemented some awesome SEO practices on the page to improve Davcon's organic ranking:
Optimised the page to be more keyword-driven especially for high volume, long-tail search queries
Improved header tags and optimised the URL for keywords
Implemented schema.org coding to assist Google with specific information reporting in organic search
After understanding how users were interacting with the site and learning that most users were primarily focused on determining the costs of installing Crimsafe, we performed:
An A/B split test comparing the old 'Get Quote' button with a new 'How Much Does Crimsafe cost?' button
The A/B test helped us to hedge our bets while we made changes to the Davcon site. A portion of traffic to the page saw our new 'How Much Does Crimsafe Cost?' button while the rest saw the old button. By using a split test we ensured that we maintained some conversions on the page while seeing how the new changes affected that rate.