Maximise your leads and sales with WebIQ
Owning and managing a truly successful business website requires a lot of expertise, time and effort. While committing time and resources to your website from within your company is certainly possible after your new site is launched, ensuring you get the absolute best results from your strategy can be a different story.
Our unique WebIQ service puts our team of experienced website professionals to work on your website, constantly testing, measuring and improving key aspect of your sales funnel to maximise your conversion rate. Better ROI from your traffic means more money in the bank.
Our proven strategy for increasing your web ROI
When you sign up for the Web IQ program, we follow a tried and true process for extracting the very best results from your website.  Refined from over a decade designing, building and marketing websites for businesses of all sizes, our methodology is a proactive, practical and gets results.
Discovery

We won't know if the improvements we make to your site have resulted in more sales/bookings for you unless we measure how your website is currently performing

Setting Goals

Your website visitors should have zero ambiguity about what your business offers. Each key page your site should have a clear goal and should encourage the visitor to take action immediately. This can be achieved by carefully considered use of text, images and layout.

Planning

Let's start by developing your Unique Selling Proposition (USP) in just a handful of words: What is it about your business that gives it a unique appeal to those in your target market? How does your offer compare to others in the same industry?

Execution

This step requires our team to brainstorm, mock-up and implement new page designs. At the same we will set up "goal tracking" which will allow us to see how well visitors are engaging and taking action on the new pages.

Review

Test, measure, repeat is the mantra. Step 5 starts by comparing newly collated results with the baseline results captured in Step 1. Based on these results we will be in a position to make further changes to these key pages and begin planning on the next most important pages.
A proactive and practical plan to optimise your website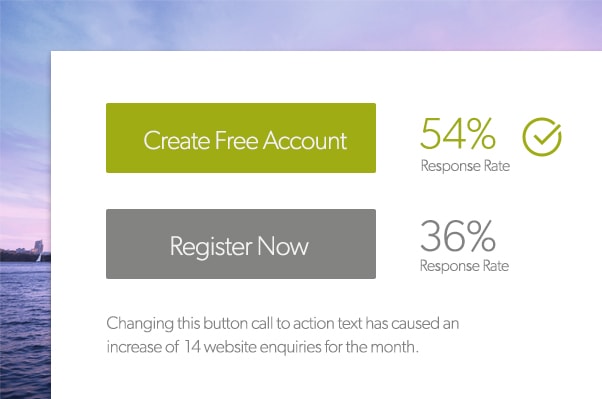 Getting visitors to your website to evaluate your products and services is only half the battle. Positioning your product to get the maximum response on your website is critical to achieving engagement and sales on your website.
From complete homepage redesigns, to individual page upgrades,  split testing of your website layout and copy, the WebIQ Team work hard on your site every month to make sure it's converting the maximum sales and  giving you the best return on investment.
A team of professionals always working for you
Whether your site needs a fresh new homepage banner, email signup form or a complete overhaul of your contact page, we have the brains and the brawn to pull it off. Our team of marketing specialists, graphic designers and web programmers can be put to work to achieve the results you needs.
We can also help to create exciting and fresh content for your website, and we even have photographers and video people in-house to give your website that extra spice.