Ready for a good news story? Well, do we have one for you! Meet Mother Duck Child Care, a franchise with 11 childcare centres across Brisbane.
Mother Duck came to us back in 2017 with 11 centres, averaging a 70 to 75 per cent occupancy rate. It meant they were breaking even each month.
They knew that to become a sustainable and profitable business, this needed to improve. They gave us a target rate of 85 to 90 per cent occupancy across the centres.
Today? They're at 95 per cent ✅
Here's how we did it 👇
So many childcare centres focus their marketing on the flashy bits: interactive playgrounds and modern facilities. Don't get us wrong, those are good selling points.
But Mother Duck has a real focus on setting the children up for life. Their approach to early childhood education and the age-appropriate programs delivered to the children really set these centres apart.
The children's welfare, happiness, and growth are at the centre stage of everything that they do.
They just needed a way to package these benefits up in a way that parents or caregivers would see and understand.
So, they asked us to get involved.
In September of 2017, our sales team had an enquiry from Karen Prestedge, the CEO of Mother Duck.
Karen and the team were in the process of reassessing their online presence — they knew they needed a team who could pull off an amazing website and smash their digital marketing goals.
Our relationship with Mother Duck quickly became a collaborative one. Our team works with Karen and the centre franchisees, sharing our approach and strategy, all the while listening to their ideas.
We're always excited to hear trends in their enquiries and enrollment processes.
An early example of this came during the development of their website. Enquiries were rolling in, frequently asking two questions, "Do you provide nappies?" And, "Do you provide fruit?"
By listening to your target market, you can not only answer their questions, but project the right values. In this case, Mother Duck cares about education and they value setting children up for life, but they're still coming through with the basics: nappies and fruit.
With the knowledge that this was important to prospective parents, we made sure the website had that information — selling the centres and saving management time answering these questions.
But we'll talk more about all of that soon.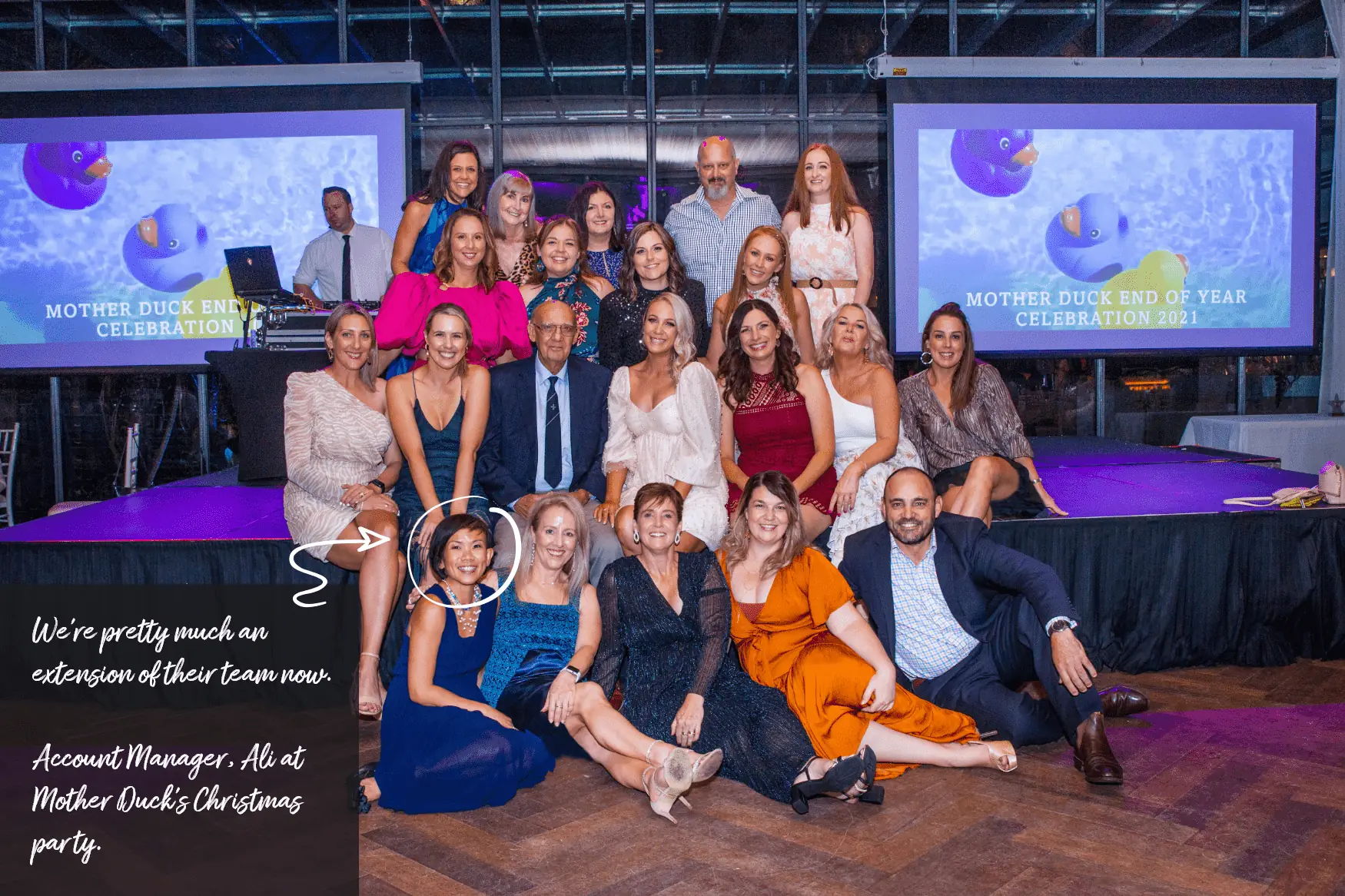 Of course, the early childhood sector faces its own challenges… Like a massively competitive industry. 📈
The early childhood sector isn't all rainbows and finger painting. It's a highly competitive industry and that competition is constantly driving in an upwards direction.
New centres are constantly opening, with large, nationally-recognised brands and even local franchises expanding in South East Queensland.
These larger centres have the wiggle room to separate them further from their competitors, lowering fees, upgrading facilities, and opening some pretty fancy playgrounds.
Not to mention some of these centres offering fresh coffee to parents at morning drop-off.
So, it was really important to cut through that noise.
Mother Duck's strategy called for a dynamic approach and of course, we had to set them apart.
Like we said, childcare is way more competitive than you'd expect.
We had to cut through the noise and set Mother Duck apart from the rest. We needed to establish them as Brisbane's best.
So, we had to create a new website that looked the part while communicating all the things that make Mother Duck different, and the best spot for a child to grow and learn.
And it was important we took a dynamic approach to their digital marketing strategy.
Selling a unique childcare experience (and some pretty nice centres)
A good foundation of any project, whether a new website or a digital marketing strategy, is finding the benefits of the business — or your Unique Selling Points (USPs).
We wanted to focus on the curriculum they provided, the programs that were a step above, and the way they interacted with children.
Teaming up with Mother Duck, we created a brief for the website. It needed to answer the burning questions each parent had, it needed to set Mother Duck apart as a higher standard of education and development in the industry, and it needed to use real imagery — no cutesy cartoons.
The website design did just that.
It has high-quality imagery throughout, showing happy children learning in the safe and nurturing environment that is Mother Duck.
It has a logical flow that ticks off checkboxes and scratches out concerns as the visitor scrolls through.
And it's set up with conversion in mind.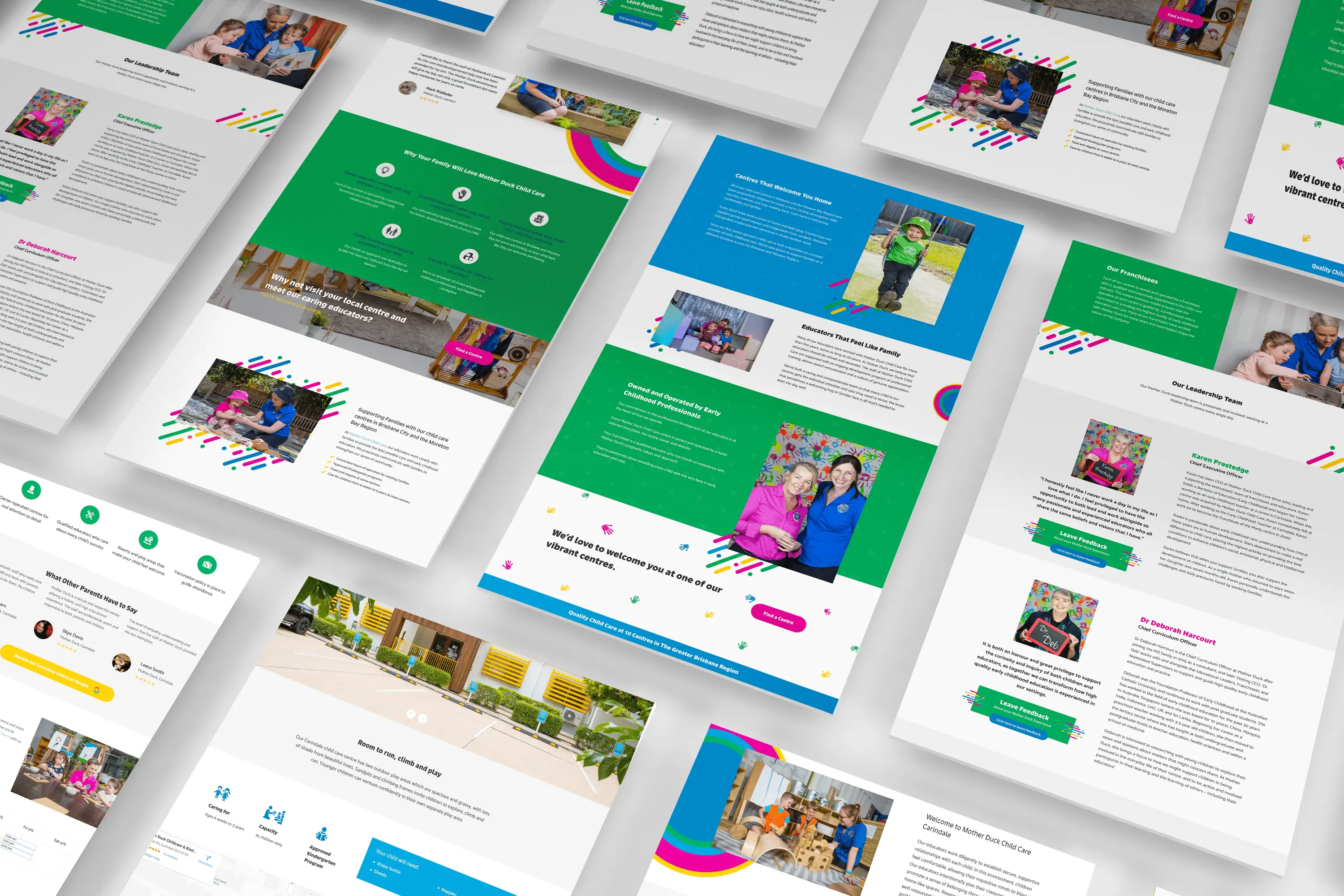 A layered digital marketing approach to find their audience
We couldn't just count on SEO or just Google Ads. Mother Duck receives our full digital marketing service, including SEO, Google Ads, and Facebook Ads.
Within those services are a bunch of extras that work to strengthen our approach.
Each week, we style and upload blogs from Mother Duck's CEO, Karen Prestedge as well as a host of other early childhood education experts. Karen and these experts share loads of thought leadership posts, cementing Mother Duck as a leader in the industry. As well as that, we work with their network of contributors who share insights across early childhood education, children's health and nutrition, mindful parenting, and other topics to add value for the parents.
We create social media posts to boost those blog posts and schedule them via Loomly, benefiting each of the centres' pages.
We collaborate with their third-party partners too. It's important we're taking an integrated approach to their digital marketing, so we team up with Toddle and other childcare CRMs to keep it all consistent.
We even attend their board meetings. The board meets each month, so our Account Manager, Ali, goes along quarterly and presents all of our work to the board, running them through results, new competitor research, and any new marketing ideas.
Of course, digital marketing strategies need to evolve over time ⌛️
The needs of parents and their children are constantly changing, so it makes sense that Mother Duck's digital marketing strategy needs to as well. Last year, we realised it was time to pivot the strategy. We needed to revamp their marketing again, this time focusing even more on what makes Mother Duck's centres so unique.
Where we'd previously used images of their centres and play areas, we decided to instead go for beautiful imagery of the children and educators. We realised it's not about showing the facilities — they know Mother Duck will have those — every centre does. It's about the emotional impact. A really unique point for Mother Duck is the warmth and the bond the educators share with the children. So, we captured this and made it front and centre.
Blog content isn't just about making your website rank. It can be a really handy tool to share value with prospective customers.
Mother Duck is a centre run by highly experienced early childhood educators, so they know their stuff. Through weekly blog posts, we share this value with parents, with topics spanning education to mindful parenting.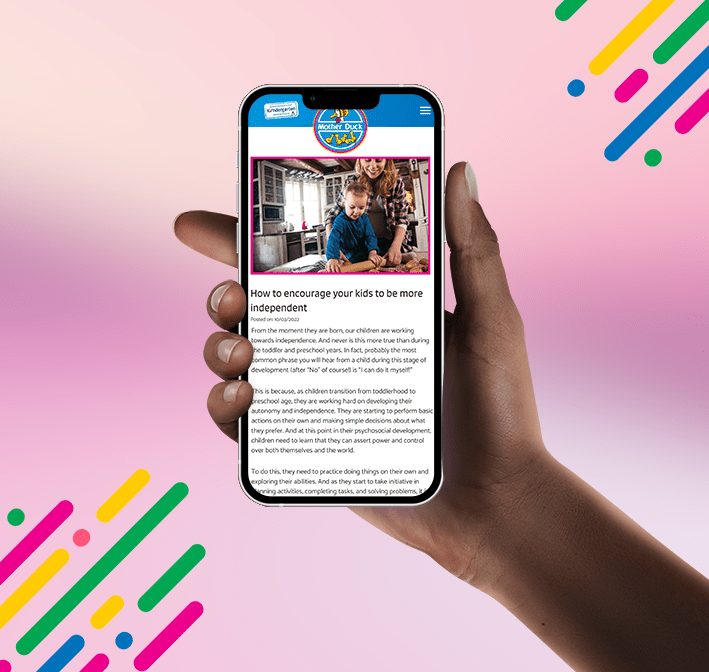 Expanding their existing centre pages
Each of the childcare centres under the Mother Duck umbrella is different. While the overall curriculum is the same, the centres offer different features. Some have mindfulness programs, others offer afternoon sports or a specialised music program. So, we're currently in the process of updating these centre pages. We're not only updating them in line with the features their centres offer, but we're
expanding on their existing content and giving it an SEO facelift.
Creating consistency in social media posts
With their 11 centres across Brisbane, there's so much opportunity for quality social media content. If each centre uploaded its content individually, though, there could be 11 different messages with 11 different voices, and that consistency would slip. We've now set the whole team up with a
streamlined approach to creating their Facebook posts
. It means they know exactly how to pull off the
brand message and tone that makes Mother Duck what it is.
We're now in our fourth year with Mother Duck. So, where are they now?
Well, the most significant thing is that they've exceeded their occupancy target. Back in 2017, Mother Duck were averaging between 70 and 75 per cent occupancy — they wanted to reach 85 to 90 per cent.
Late last year, Mother Duck smashed their goal, reaching an average occupancy rate of 95 per cent.
That's 23 per cent more than the national average according to The Quarterly Performance Indicator Snapshot. Taking data from 1,500 daycare centres, they found average occupancy rates fell by five per cent in the first quarter of 2021, with a national average of 72 per cent.
So, as you could guess, both our team and the team at Mother Duck are counting this as a massive win.
And of course, we're digital marketers, so we really want to take you through the results, number by number. 🤓
Today, Mother Duck's website ranks for around 1,000 organic keywords. Better yet, they're in the top positions for suburb-related keywords like 'Childcare Bracken Ridge' and have first page results for childcare Brisbane terms.
This last year has seen their organic traffic improve by 19.78 per cent when compared to the last year.
Their goal completions –as in, when a specific action we're tracking has been completed– have improved by 13.69 per cent.
Plus, their domain rating has been steadily improving since we started link building.
From Facebook, Mother Duck brought in a consistent flow of leads, averaging 487 per year. That averages at 44.2 leads per centre in a year.
In 2020, we achieved a $105 CPA (cost per acquisition — how much a lead from Facebook costs). In 2021, this improved to $99 CPA. Sneaky sources tell us a major competitor's average CPA is a whopping $200.
Mother Duck enjoyed a four per cent conversion rate across both 2020 and 2021 as well as a 1.23 per cent click-through rate in 2020 and 1.73 per cent in 2021. The industry average? Just 1.1 per cent.
Mother Duck got a bunch of wins via Google Ads across 2019, 2020, and 2021 too.
Here, you can see their CPC (Cost Per Conversion) becomes cheaper year on year.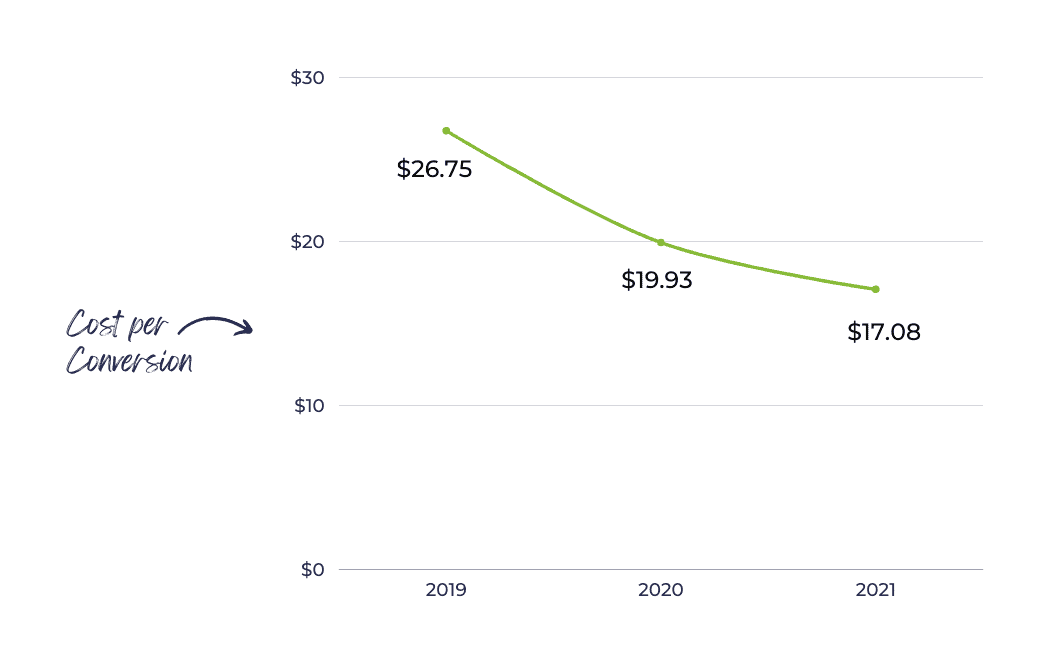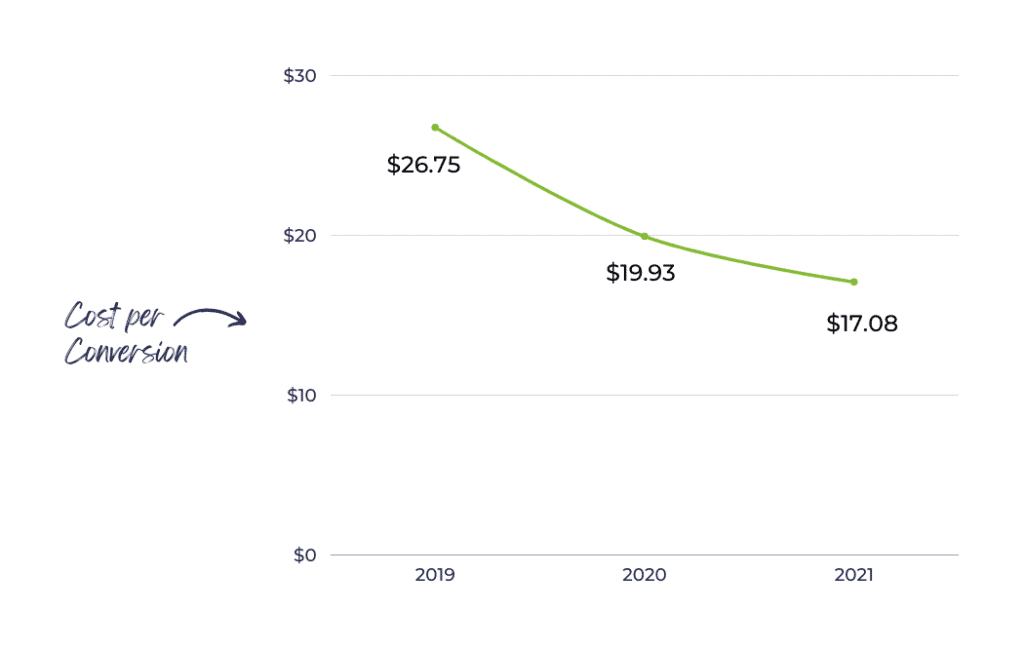 Each year though, those conversions grew. In 2020, their conversion rate showed a 117 per cent improvement over 2019. And in 2020, they had a 104 per cent improvement over 2019.
Let's talk Customer Lifetime Value
Achieving a $99 Cost Per Acqisition (CPA) is massive for Mother Duck because their Customer Lifetime Value (CLV) is roughly
$70k – $90k
. At Excite Media, we're always thinking longterm. So, in this case, we're looking at the lifetime value of that acquisition. It's not a one-off sale, it's an ongoing transaction. One of the first things we did with Karen when she came on board was work out Mother Duck's CLV. When you take into account that child care is roughly $100 a day, at three days a week on average, and the relationship lasts for roughly three years — there's certainly room to invest in these leads. Achieving a
$99 CPA from Facebook
and a
$17 CPA from Google Ads
is an amazing achievement and great value for the brand. This result means Mother Duck can feed those savings back into their team's development and better resources for the children and their education.
Watch what Mother Duck has to say 👇