"SERP (pronounced SIRP) is a very basic acronym for Search Engine Results Page."
SERP (pronounced SIRP) is a very basic acronym for Search Engine Results Page. Primarily we talk about Google given its dominance of the search engine traffic market. It's also important to realise theat there are a number of elements that make up the SERP. Knowing what these are, how they are populated and what they are for is key to SEO success.
The Anatomy of a Search Engine Results Page (SERP)
SERPs are continually changing as search engines try to improve their user's experience (UX). On top of this SERPs are always trying to deliver the most relevant information to users for each search query so it only makes sense that each element is dynamic in some way. For now, we'll just focus on the biggest and most important elements.
Paid Advertising
The first element that always dominates Search Engine Results Pages is the paid advertising that the search engine offers. Essentially buy this space from the search engines. Usually this method is via cost per click (CPC) but we cover that over on the AdWords page.
"It's important to know that SEO strategies do not compete with paid advertising."
Paid advertising typically dominates the first 3 to 4 spots on the SERP. These ads are paid for by the companies who choose to use search engine advertising in their strategy. It's important to know that SEO strategies do not compete with paid advertising. SEO is about focusing on the organic (i.e. unpaid) results within the search engine – these come further down the results page.
Knowledge Graph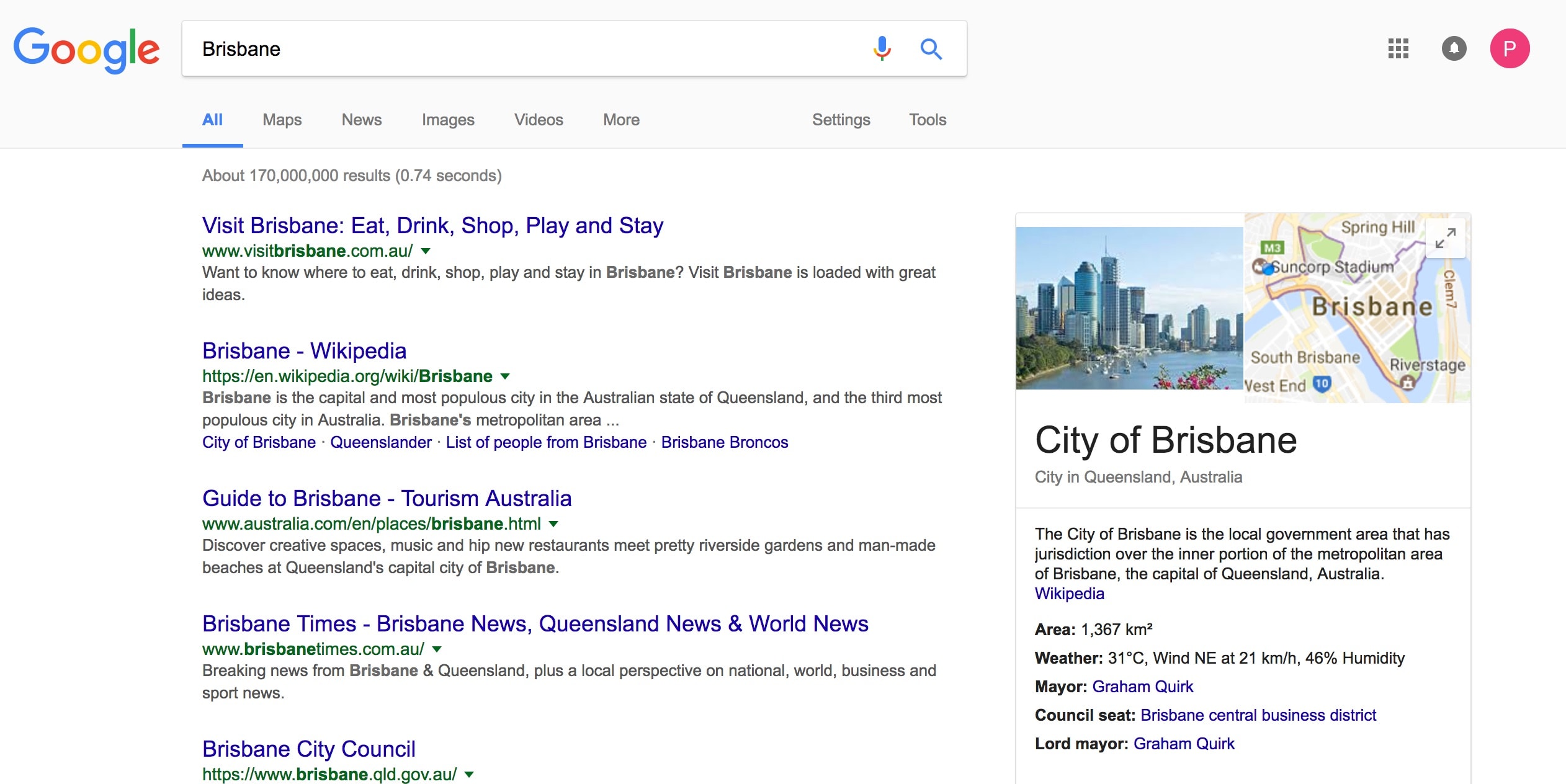 The knowledge graph is an element that Google added to its SERP in recent years. It was developed to give users a space for quick reference on items of historical, geographical, political, culutural or social significance. In the above example the knowledge graph displays key information about Excite's hometown Brisbane. The knowledge graph also shows information on items of popular culture like: books, movies, music, celebrities, etc.
Google My Business/Business Listings
Google My Business and business listings show up in their entirety on the right hand side of the SERP. These listings display critical information about your business like: opening hours, business name, your address and contact number and a link to your website. However, business listings only show when Google determines that it will match what you're looking for. Of course this is the case with most search queries but it is particularly true for business listings.
Business listings will only show when users are searching for your business name. Sometimes, dependent upon your business name users will also need to search for your locale as well.
Local Pack & Map Listings
Local pack listings are designed to bring you information on the most relevant organisations, businesses or service providers that suit your search geographically. Recent changes to Google's algorithm has tightened the area of operation for these local listings. Which means if you want to rank for "insert your service here" Brisbane, then being located in Brisbane is one of the best things you can do to optimise for your search.
Geographic relevance is an increasingly critical factor when it comes to ranking SEO rankings.
Organic Results
Last but not least are the organic results, these are the unpaid results which appear 'organically' in search results. Organically in this case means that they are selected based on relevancy, authority and credibility. Organic results are selected to be shown to users based on a multitude of factors, which we cover in other sections of the Guide. Click this link to get started on learning more about SEO.